Pyrolysis Plant by Arslan Enginery Ltd.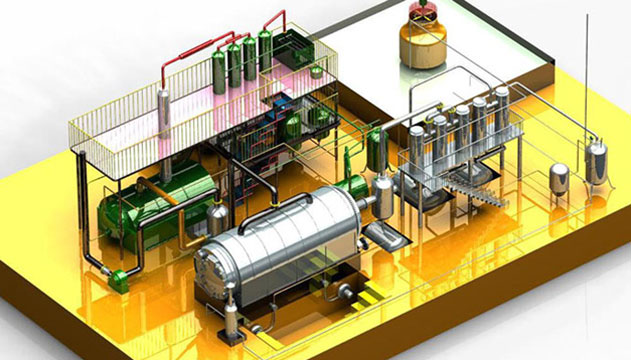 It is clean Renewable Energy Source by which we can Recycle the Waste Tiers and Plastic into Fuel oil. By Pyrolysis Process we recycle and reuse the Waste Teri and plastic to black fuel oil and then we re-refine it to diesel  by condensing gas into light fuel oils.
Arslan Enginery is having two different Pyrolysis Process.
1. Teri Pyrolysis Plant
2. Plastic Pyrolysis Plant
Firstly we go with Pyrolysis reaction in presence of catalytic and absent of oxygen at a reaction temperature of 350+ Degree with vacuum pressure , After condensing the gas to we get light fuel oil the remain black carbon will be used as a coal .
We offer continuous and Batch process .
Technical Details & Scope of Supply:
Our scope of supply includes Designing, Detailed Engineering, Procurement, Fabrication,
Supply, Supervision of Erection and Commissioning of plant suitable to meet the plant
capacities & Supply of below listed items:
1 Pyrolysis Reactor
2 Burner
3 Burner block and burner mounting assembly
4 Gas solid separator
5 Condenser
6 Oil Hold up tank
7 Gas scrubbing system
8 Cooling Tower
9 Oil Transfer pump
10 Cooling Tower circulation pump
11 Feed control valve
12 Feed conveyor
13 Internal scrapper
14 Scrapper gear box with mounting assembly
15 Scrapper motor ( flame proof)
16 Double mechanical seal
17 Plastic Shredding Machine
18 Main electrical panel with PLC system
19 Temperature Transmitter
20 Pressure transmitter
21 Temperature Guage
22 Pressure Gauge
23 Vacuum Pump System (Automatic)
26 Diesel tank for burner
27 Valves ( MS + SS) Set
28 Insulation
29 Field Cabling ( Instrument + Electrical ) Set
30 Piping Set
31 MS skid with epoxy painted Set
For Quotation please submit your raw martial details, per day capacity and plant Location.