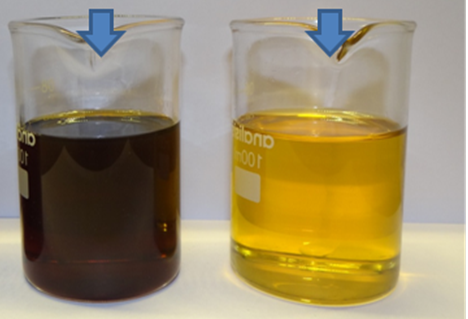 Arslan Enginery is doing the complete EPC Turnkey project for used n waste oil recycling .
We recommend the  best proven technology of WFE (Wiped Flim Evaporator) and solvent extraction .
Which does not use any clay its 100% environment safe and gives the best optimal quality output of base oil.
Our scope are complete detail engineering , procurement of all equipments, basic installation and construction of project we requite worker and give them training.
please find more details at – https://arslanenginery.com/waste-used-oil-recycling/
Our process is for recycling waste oil and used lube oil are very simple we start with pre heating and then we go for dehydration and distillation in Column  after we go for evaporation process with high vacuum and high pressure in Wiped film Evaporator usually we add 2 WFE but dependent on clients need or output feed requirement like how many cuts of oil he need the first cut from 1 WFE is light base oil SN 150 and from 2nd WFE we get Heaver cut of SN 300 and SN 500.
After the evaporation process we collect the two cuts of base oil and rest part is residual which we use as light black bottom or asphalt in road construction.So we don't get any waste at all.
after the recycling of base oil we can go for blending process to blend and mix additives each base oil into various types of Lubricant oil like engine oil, transmission oil, hydraulic oil, industrial oil and many other lubricating oil over 2000 types.
You can submit your enquire to us we will revert you soon with report and quotation for projects.
please find our contact details at contact page .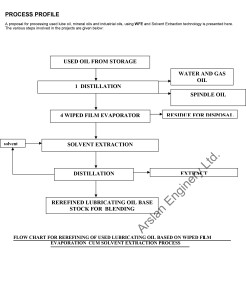 Let me know if you require more details about this project by emailing us.
We are willing to first educate you about the process then you can decided for this project . we will be happy to share any info related to this project until client is ready for this project .